---
MERCED 2020
THE FUTURE
HAS ARRIVED
First Buildings of Massive Expansion
Open to Students
---
"The capacity we are building right now will enable our future. We will provide world-class education to more of the best and brightest students from California and beyond."
-Chancellor Dorothy Leland
MERCED 2020
---
UC Merced's Journey Continues...
Less than two years after breaking ground on its unprecedented campus expansion, the University of California, Merced, celebrated the opening of the first three buildings of the Merced 2020 Project in August.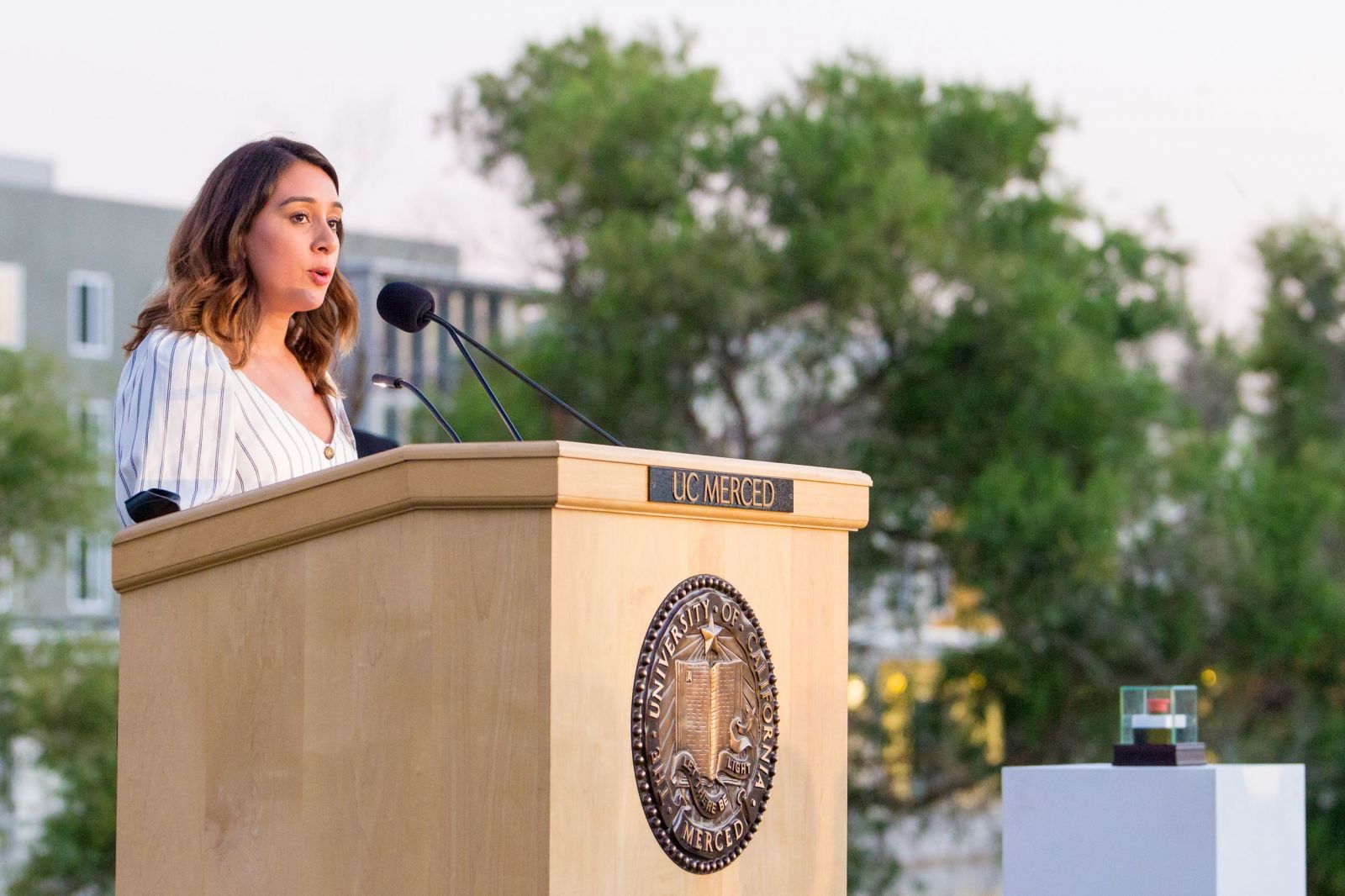 UC Merced alumna and Webcor team member addresses the audience
More than 400 people were on hand for the celebration, including UC Merced Chancellor Dorothy Leland and UC President Janet Napolitano. Leland and Napolitano also met with students and visited with more students and their families as they moved in to the university's new residence halls.
The students moved into two brand-new, mixed-use residence halls, which feature more than 700 beds in addition to classrooms and retail space.
"The capacity we are building right now will enable our future," Leland said. "We will provide world-class education to more of the best and brightest students from California and beyond. We will grow our faculty thoughtfully and strategically to have the greatest possible impact in our areas of research excellence. We will become a powerhouse of innovation and transformation for the San Joaquin Valley."
just the beginning
At final delivery in 2020, the $1.3 billion initiative will comprise 13 new buildings featuring new classrooms, research labs and student life facilities that will allow the university to accommodate up to 10,000 students.
The centerpiece of the project is the Pavilion — an iconic 600-seat dining facility overlooking Little Lake. The Pavilion is complemented by two new residence halls that have been strategically designed to form a pedestrian-friendly corridor that blends housing with classrooms, study lounges and student activities.
The first phase expands UC Merced's ability to provide access to a world-class education to more of California's best and brightest students, and future phases will include state-of-the-art laboratories to help further the university's research mission.
"We believe in the power of education to change lives and change the world for the better," Napolitano said. "There is no better example of that than UC Merced, and this step marks a new chapter in the expansion of that opportunity."
"WE BELIEVE IN THE POWER OF EDUCATION
TO CHANGE LIVES AND CHANGE THE WORLD
FOR THE BETTER. THERE IS NO BETTER
EXAMPLE OF THAT THAN UC MERCED..."
-UC President Janet Napolitano
WINNING AWARDS AND TRANSFORMING LIVES
The unique public-private partnership UC Merced is using to develop the project has garnered numerous awards and recognition from across the country, including being named Social Infrastructure Project of the year at last year's P3 Awards. The agreement provides the university with contractual assurance that the buildings will be well maintained for decades.
With 600 employees on site every day, the project is expected to generate a total of $1.9 billion in regional economic impact and $2.4 billion statewide through its completion. Development partner Plenary Properties Merced (PPM) and lead contractor Webcor joined the university in commemorating the completion of the project's first phase.
"We are well on our way to meeting our delivery and sustainability goals for the UC Merced 2020 Project, and this milestone marks a tremendous occasion for the university and our PPM team," said Dale Bonner, Executive Chairman of Plenary Concessions. "We are incredibly proud to see this project setting the standard for P3 partnerships in the higher education sector."
Webcor has placed a strong emphasis on hiring local workers, including 17 San Joaquin Valley subcontractors. Seven UC Merced students honed their analytical, engineering and communication skills as interns on the project, and Webcor has since hired them as full-time employees.
"This momentous milestone for UC Merced brings to light the unwavering efforts of the design-build team and the success and innovation a true P3 partnership can bring," Webcor President and CEO Jes Pedersen said. "This project is also a great example of how Webcor seeks to improve communities and local economies. We've made it our mission to utilize the regional subcontracting community, provide education and on-the-job training for UC Merced students, and assist local nonprofits with various projects and support throughout the region."
MERCED 2020 BY THE NUMBERS
THE FUTURE IS BRIGHT
As construction continues on the 10 additional buildings that will open over the next two years, the university's research enterprise and academic profile continue to evolve and mature.
Among the other changes at UC Merced this year are a new general education program that emphasizes the university's values and mission, Living Learning Communities in the new residence halls, a new research center for nicotine and cannabis policy, and a new philosophy major.
The university also has substantial programming planned to promote diversity and inclusion, and to create opportunities for members of the campus community to connect.
"The UC Merced experience is one in which members of our community can set aside their differences, and connect and collaborate with shared goals and values," Leland said. "We are coming of age as a university at a time of great challenges, but also great opportunity. We are at our best when we focus on the success of our students, come together as a community and support each other."
THE FUTURE IS BRIGHT...
FIAT LUX.