Walk into the room
knowing just what to expect,
how to get help if you need it,
and how to find resources to
help you reimagine your
classroom experience.
The Classroom Experience Starts with

AET
---
Academic & Emerging Technology (AET) staff are here to provide you with technology in classrooms and learning spaces on campus that are flexible, easy to use, and reliable.
No matter if you're brand new to campus or founding faculty, AET is here to help you troubleshoot problems, learn more about our core technologies, and explore new avenues to bring engaging, cutting-edge classroom experiences to life.
BYOD
Bring your own device
UC Merced was an early adopter of the 'bring your own device' (BYOD) model in all its instructional spaces, meaning we don't provide a computer in our classrooms.
While you should find an adapter to suit your needs in your classroom, please contact us if you need additional help connecting to room devices.
You'll find these devices in COB1, KL, SE 1, and SSM.
Projector/LCD screen that supports standard definition 1024 x 768
Document camera
DVD player (by request)
TurningTechnologies (Clicker) Receiver
Assistive Listening System
Apple Lightning to VGA adapter
VGA Connection for your laptop
---
You'll find these devices in COB2, Glacier, Granite, SE 2, and SSB.
HD Projector/LCD screen that supports 1080p
Document camera
DVD player (by request)
BluRay Media Player
TurningTechnologies (Clicker) Receiver
Assistive Listening System
HDMI Connection for your laptop
DisplayPort to HDMI adapter
Basic instructions for all classroom technology are attached to each classroom's instructor station; please refer to those instructions when you use the room for the first time.
A Note on Older Classrooms:
UC Merced is a young campus by any standard, but technology waits for no state-funded budget and the intense demands on our classroom equipment do eventually take their toll. As classroom equipment ages and new technologies come to market, AET is constantly reviewing, evaluating, and testing equipment and applications that serve the teaching and learning community.
If room technology in your classroom is not performing as expected, please call the OIT Service Desk at 209-228-HELP (4357) and press 1 to be connected to AET.
We will dispatch an AET support technician immediately. During scheduled instructional time, our goal is to minimize the disruption to your class. Whenever possible, we will fix the problem or identify an acceptable workaround quickly, and address underlying issues when class is not in session.
During the first week of classes, AET staff make every effort to 'drop in' to each and every class on the university roster. This way, we can answer any questions you may have about room technology right then and there. Additionally, we are available to schedule 1:1 consultations to go over room operations and answer other questions at a later date.
We also offer more specific trainings on various technologies by request.

CatCourses is UC Merced's Canvas Learning Management System (LMS). It provides a central repository for all academic course sites in which instructors can interact with and provide educational materials to their students.
CatCourses automatically generates course sites for all UC Merced courses, and instructors gain access to their course sites as soon as they are assigned as the Instructor of Record (IOR). Student rosters are automatically updated as they change with the Registrar, and students gain access to course sites one week prior to the star of instruction each semester.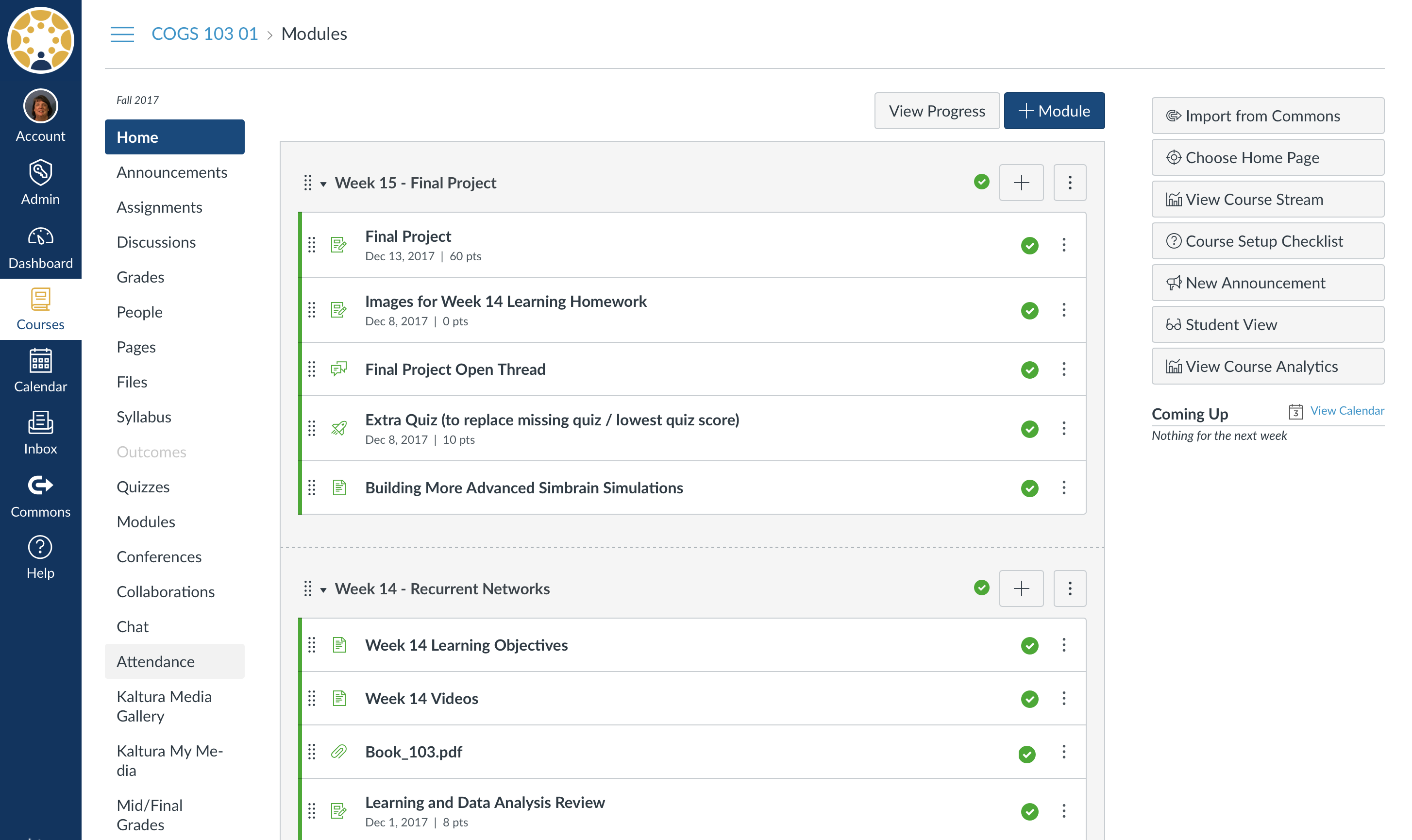 UC Merced has contracted with the CatCourses vendor to provide 24/7 support to faculty, instructors, and TAs, including live chat and phone support. To get help, log in to CatCourses and click the "Help" link on the left-hand side of any page.
AET is also available to provide convenient 1:1 training and consultation for CatCourses upon request. We can help with topics such as:
Course site setup and management
Clicker (audience response system) integration
Turnitin integration
Using Kaltura (video streaming service) through CatCourses
You can also access vendor-supported user guides using the link below.
Kaltura Video Streaming Services
Kaltura, introduced to our campus via pilot in Fall 2016, is now available campus-wide. This cloud-based video management system allows faculty to securely host instructional videos in CatCourses for student use.
Instructional video is a proven way to increase engagement and creativity, foster a sense of community among your students, and improve learning outcomes. It's also a great way to deliver basic course content so that you can do more with your in-class time.
If you would like to learn more about Kaltura, you can search our Knowledge Base for Kaltura or browse through the Kaltura Online Tutorials. We also offer 1:1 consultations and trainings as necessary—just click the button below to get started.
The video above is a snippet of an actual instructional video recorded by UC Merced professor Jeffrey Yoshimi.
TEAL
Technology enhanced Active Learning


Technology-enabled active learning (TEAL) is a teaching format that merges facilitated discussions, simulations, and hands-on desktop experiments to create a rich collaborative learning experience. As of fall 2018, UC Merced has four TEAL Labs for faculty use: two with 45 seats and two with 90 seats.
TEAL rooms offer a fundamentally different learning environment from other instructional spaces on campus because of the design, layout, technology, and potential pedagogical choices available to the instructor.
Click below to learn more about how to design a course utilizing TEAL technologies for spring 2019 and beyond.